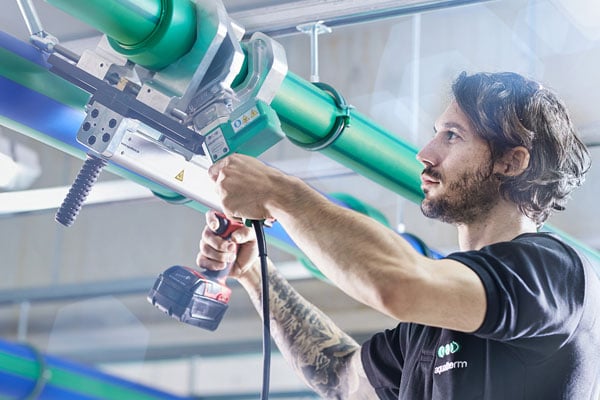 Polypropylene Heat Fusion
Heat fusion is a process used to join thermoplastics such as aquatherm's polypropylene together. Rather than using glue, solder, or a mechanical connection and gasket, heat fusion physically turns the two pieces of plastic into one piece. The process is similar to welding, but doesn't require a filler material and, in the case of aquatherm's specially formulated Fusiolen PP-R & PP-RCT, heat fusion does not weaken the material at the point of connection. aquatherm's heat fusion connections use a large joining area, making the connection at least as strong as the pipe itself, and often stronger.
Heat fusion works by returning the connection point to a melted state, the way it was during production. This allows the polypropylene chains to join together as the connection cools for a permanent bond, as if they were manufactured as one piece. This prevents any sort of chemical or physical weakness at the point of connection and results in a much lower instance of leaks or failures.
Socket Fusion
Pipe Diameter: ½" – 4″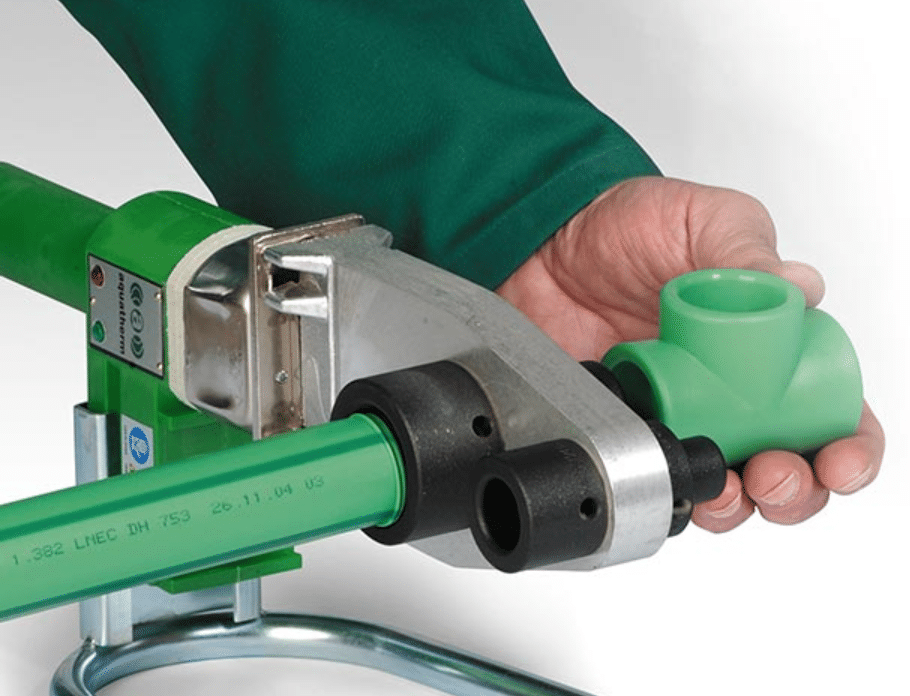 SOCKET FUSION IS A FAST AND EASY WAY TO ASSEMBLE PIPING SYSTEMS.
aquatherm's socket fittings fuse over the pipe wall, making the joints the strongest part of the entire system. Socket fusion uses hand-held welding irons and is used for pipe and fittings ½" to 4″ in diameter.
A proper socket fusion involves cutting the pipe, marking it for insertion depth, heating the pipe and fitting for a specified time, and then pushing them together to cool. The fittings are specially sized to create enough pressure with the pipe for a proper fusion. Once cool, the pipe and socket fitting become a single piece with no potential leak path.
Socket fusion can be performed by hand or with the help of fusion assistance machines. In sizes larger than 2″, using another installer to assist with the fusion or welding machine will help make the connection faster and more consistent.
Outlet Fusion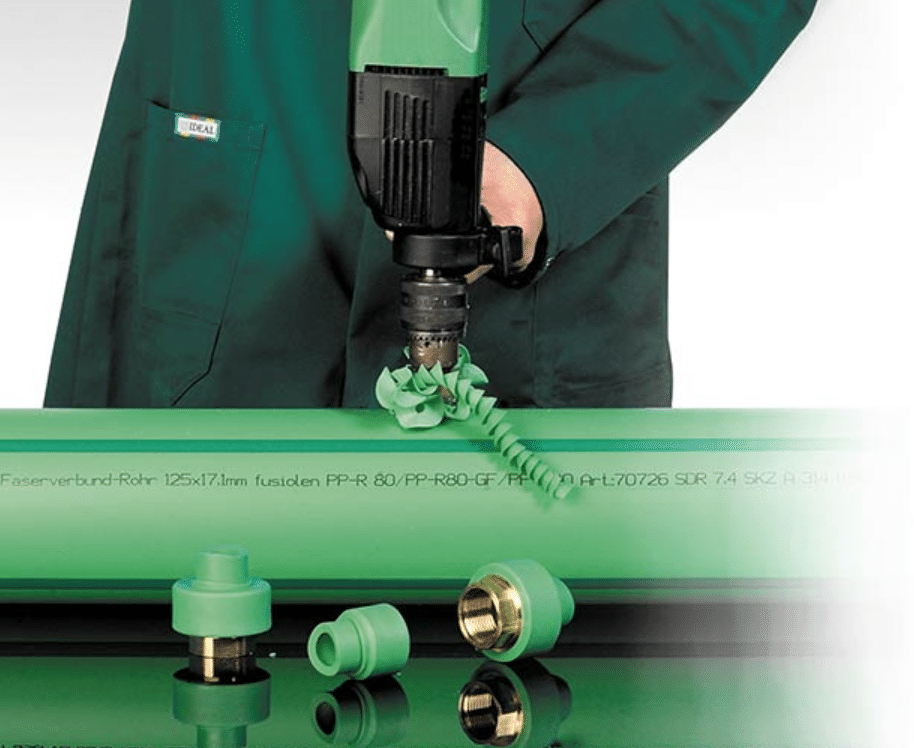 FUSION OUTLETS ARE A SIMPLE ALTERNATIVE TO REDUCING TEES.
Instead of cutting out a section of the pipe for a new fitting, aquatherm's fusion outlets can be installed directly onto the outside of the pipe. The outlet fittings are specially designed to match the curvature of the exterior pipe wall for a strong, reliable connection.
To install a branch outlet, simply drill through the pipe wall, heat up the pipe and fitting, and place the outlet into the wall of the pipe.
Fusion outlets do not weaken the structure of the pipe and may be placed much closer together than other branch-type connections.
Butt Welding
Pipe Diameter: 6″ – 24″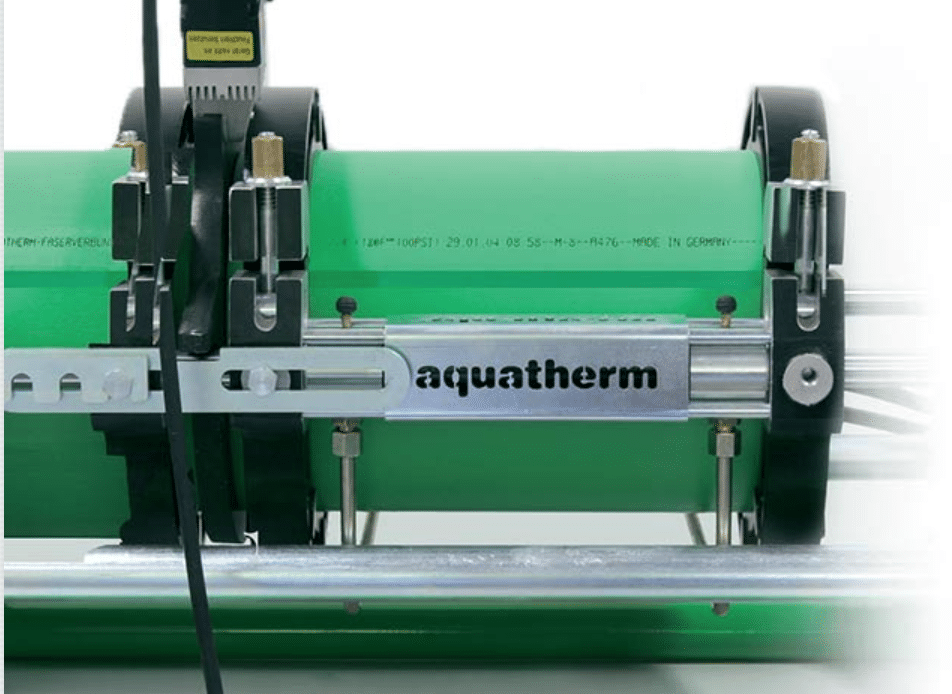 BUTT WELDING (ALSO KNOWN AS BUTT FUSION), IS USED FOR PIPE AND FITTINGS FROM 6″ TO 24″ IN DIAMETER.
To perform a butt weld connection, the ends of the pipe are planed smooth, pressed against a heating plate, then pressed together while cooling.
The fittings used in butt fusion are made from the pipe itself or match the diameter of the pipe, so no additional couplings are needed.
Repairs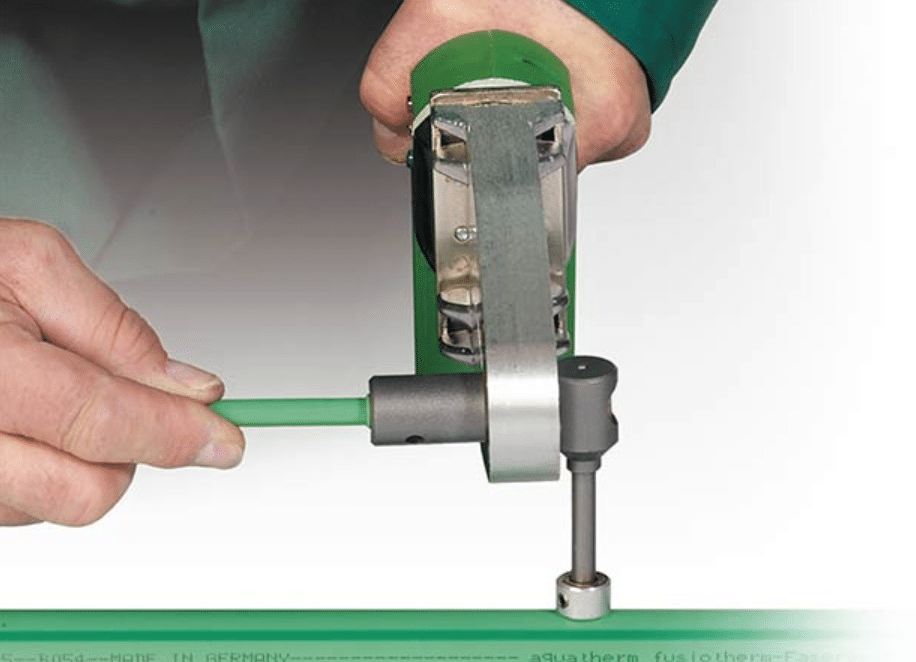 aquatherm pipe is very durable, but may be susceptible to damage under extenuating circumstances. In cases where the pipe is cracked due to stress, the affected portion can be cut and discarded.
If the pipe has been punctured, a repair plug along with the appropriate welding head can be used to seal a hole. Both ends of the repair plug may be used, with ¼" on one side and 7/16″ on the other. If the pipe has a hole too large for a repair plug, an outlet fitting can be used and capped off.
Polypropylene Hot Tap Tool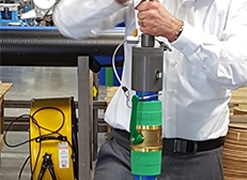 In some situations it is desirable or necessary to add an outlet or branch to a live, operational service line. This "hot tapping" eliminates system downtime and minimizes service disruptions.
Hot tapping is easy with aquatherm pipe! We have teamed up with our partners at McElroy, one of the leading manufacturers of polypropylene (PP) pipe fusion equipment, to offer the industry's first PP hot tap tool.
This patent-pending innovation completely seals the system, drills through the pipe wall, and retracts cut out pipe pieces, leaving in place a fusion-welded outlet fitting and ball valve. It is designed to provide branch lines ranging from 1-in. to 2-in. nominal diameter (32-63 mm) on aquatherm PP-R piping systems.
Hot-tapping requires additional training, tools and appropriate hot-tap fitting assemblies. For further information, please contact your aquatherm Regional Sales Manager.