Aquatherm in the News
March 16th, 2021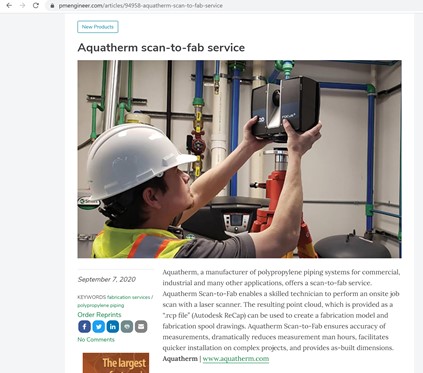 You know aquatherm's marketing department is always looking for projects to share with the industry in the form of case studies and videos. In addition, we stay in close contact with the editors of the HVAC/P industry's leading publications  to keep them apprised of the latest updates on our people, projects, and products. Here are just a few recent examples of media coverage for aquatherm.
Our case study about the use of aquatherm pipe in innovative modular data centers ran in both Mission Critical magazine and Engineered Systems magazine.
aquatherm's Barry Campbell shared his insights and a Scan-to-Fab photo in a feature story in Contractor magazine, here.
Our case study about aquatherm being used as part of at the central utility plant upgrade at Old Dominion University was picked up by both PHC News and phcpPros. 
Plumbing & Mechanical picked up our "Happy as a Pig" case study, about an installation at a hog farm in Ontario.
Craft Brewing Business ran a very cool article about the benefits of PP pipe in breweries that linked to several of our case studies and videos.
Engineered Systems shared our Legionella White Paper with its readers:
aquatherm's Scan-to-Fab Service was featured in HPAC Engineering's  FastTack e-newsletter as well as on Facilitiesnet.com.
aquatherm's VP of Marketing, Barry Campbell, was quote extensively in a "trends" article in pme magazine (and an aquatherm pipe installation photo graced the issue's cover).
And Scan-to-Fab and molded fittings were both listed among pme magazine's "Top 20 products of 2020"!
Thanks for reading and keep those case study story ideas coming to Ron.Rajecki@aquatherm.com.