COVID-19: An Imperfect Storm for Contractors
July 23rd, 2020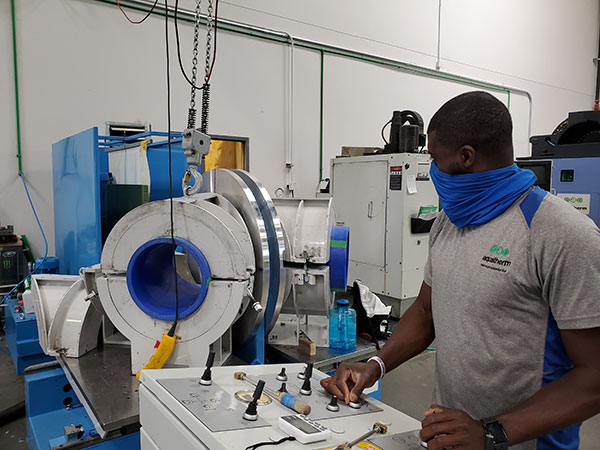 Aquatherm remote training, Fabrication Services can help overcome challenges
From halted or canceled projects to paycheck protection loans and layoffs, the economic impacts of the COVID-19 pandemic on the construction industry have been well-documented.
A recent online survey of construction firms conducted by the Associated General Contractors of America (AGC) found more than half the respondents have had projects halted, 40 percent had laid off employees, and 74 percent have sought Paycheck Protection Program (PPP) loans to help them retain staff.
Despite the patchwork of phased re-openings of projects across the country, it seems certain that the effects of the pandemic will continue to be felt in the foreseeable future. So the question for both construction firms and contractors becomes "Where do we go from here?"
MORE THAN EVER, SAFETY IS JOB #1
Kollin Knox, President, P1 Group, Lenexa, KS,  said the firm's first priority in the COVID-19 era has been ensuring the safety of the company's associates.
"With construction being an essential function, we have invested a tremendous amount of time and effort in staying up to date with the CDC's guidelines, as well as local recommendations," he said. "We have hundreds of associates going out into the field every day, and we not only want to keep them safe, we also want them to feel comfortable about going to work."
According to Knox, P1 Group has implemented a comprehensive communication campaign designed to continually update associates on the status of the pandemic as well as the best practices associates can use to ensure their safety. He noted that the response from within the company has been very positive.
"Our people appreciate knowing they're our number one priority," Knox said. "We knew from the outset of this uncertain time that first we must take care of our own, then we can go about taking care of our customers."
P1 Group also has used the pandemic as an opportunity to cultivate existing customer relationships.
"Even in today's 'virtual world' we're working hard to stay in front of our customers," Knox said. "We want to make sure they know we're here for them."
P1 Group offers a number of healthy building solutions, and Knox wants the company's customers to understand those options and to see P1 Group as a resource both during and after the pandemic.
"We've reached out to our customers and asked, 'Would you like us to help you improve your indoor environment?' We can provide proven solutions, such as optimized air changes, increased filtration, and UV lighting. By discussing such options with customers we're not only cultivating those relationships, we're also planting the seeds for future work."
Finally, Knox said P1 Group is taking the very practical step of renewing its focus on receivables.
"P1 Group has served our customers for more than 100 years, and it's critical that we keep cash flow strong so we can continue that service in the coming decades," he said.
Looking to the future, Knox said he can see COVID-19 potentially affecting the costs of installing heating and cooling equipment, particularly on the labor side. For example, ongoing social distancing requirements might mean fewer workers are allowed to use elevators at one time, thus increasing unproductive time. And although a lightweight product such as Aquatherm pipe might help because two workers could carry a length of pipe while remaining six feet apart, such products are the exception rather than the rule and construction work often takes place in close quarters.
"There are going to be some interesting challenges for the industry, especially when it comes to what things look like on the backside of the pandemic," Knox said. "I don't think we're going to return to what was 'normal.' Just as 9/11 forever changed what security looks like in our country, I think COVID-19 is going to leave a lasting impression on the construction industry. No one knows the footprint that it will stamp on us, we'll all have to figure it out together."
Knox added that many in the industry are concerned that the recent work-from-home policies will spell the end of the brick-and-mortar office building as we have known it. However, he has heard other theories that companies will emerge from the pandemic with a renewed sense of the importance of social interconnectedness and the positive intangibles that are associated with an office environment.
"We have about 70% of our people working from home, but I'm a pretty social creature and I enjoy the vibrancy of the office culture," Knox said. "So the future of offices is just one of many scenarios we'll see play out. These are very interesting times for sure."
DAILY CHALLENGES AND EXTREME MEASURES
Joe Escher, Vice President of E. Escher Inc. Mechanical Contractors, Roswell, GA, said the coronavirus pandemic presents daily challenges for contractors, and his company has taken "extreme measures" to protect its employees.
"We provide testing, masks, remote temperature guns, social distancing, etc.," he said. "Our problem to date has been other people who become infected at projects on which we're working."
According to Escher, these include workers from other trades, the general contractor's superintendent, the owner's representative, and other non-Escher personnel.
"When we find there is or has been a person on site who is or has been infected, our people vacate the project and immediately get tested," Escher said. "We re-man the project only when we know the project site is safe, and our people test negative. This action entails costs, which we try to recover via terms of our contract."
Beyond taking care of employees and looking out for their safety, Escher said contractors are limited by what they can do to deal with the economic woes caused by COVID-19.
"I don't see where we have any control over today's economics as it pertains to construction," he said. "We primarily contract work where we are the prime contractor, with some work as a subcontractor to certain general contractors. We are fortunate to have a backlog that will carry us through the rest of this year."
Escher noted, however, that most of the company's work is state or local government funded.
"It remains to be seen if those government funds will allow for new work, renovation work, and maintenance, or if the dollars are being used up by the unemployment situation," he said.
STREAMLINED OPERATIONS INCREASE EFFICIENCY
Glenn Bogosian, Vice President and Principal, Citron Brothers Plumbing & Heating, Tuckahoe, NY, said the company has taken steps to streamline its operations and increase its efficiency , with the goal of ensuring it can continue to meet its customers' essential plumbing, heating and cooling, and sprinkler needs.
"We've basically consolidated or removed all of our non-essential costs and manpower," Bogosian said.
According to Bogosian, the belt-tightening at Citron Brothers has included a reduction in manpower, a step he and everyone at the company hopes is only temporary. He noted that the company has already recalled some workers, but the coronavirus has created a situation in which no one knows what's going to happen next.
"It's a fine line we're walking," he said. "We have to keep the structure of the company strong. So we buckle down and deal with the situation to keep the company profitable and maintain the standards our customers have come to expect from us."
Citron Brothers' business mix is about 50-50 residential and commercial on the service side, while the renovation portion for the business is 100% commercial. Bogosian said proper safety precautions are important to all of the clients, and will continue to be so into the foreseeable future.
"Although of course we all hope a vaccine or cure is found, we're gearing up for a very long haul," he said. "We think this is going to be the way of construction in the future. Even if the pandemic does subside to some extent, my guess is we will still be entering homes and construction sites and offices with masks and cleaning equipment for the next five to 10 years. We're face to face with people, and we support the precautions and guidelines 100%. We believe they will be good for the overall well-being of the population."
Having said that, Bogosian noted that customers should brace for potentially higher construction and service costs, because procedures such as interviews and temperature-taking at jobsites and social distancing restrictions on elevators slow the on-site processes down.
Bogosian said Citron Brothers appreciates assistance from its manufacturer partners. The company has taken advantage of three Aquatherm remote heat-fusion training classes and has used Aquatherm's Fabrication Services to save time and manpower on several jobsites.  He noted that the remote trainings include hands-on heat fusions.
"The remote trainings are very good and very convenient," he said. "We've done some for our technicians who are just learning heat fusion and others as refreshers for techs who are already Aquatherm-trained."
Aquatherm offers these remote trainings on an as-needed basis and they can be requested via Aquatherm's manufacturer's representatives and/or regional sales managers.
Bogosian takes a practical approach when it comes to the future.
"We have no choice about what's going on, so we have to run with it," he said. "You deal with the mountains that are put in front of you, you climb over them and you do the best you can. But the politicians and architects and engineers all have to be on the same page with us and keep the new realities of construction in mind when they're creating guidelines and designing buildings. As long as we're all on the same page I'm confident we can keep our customers safe and happy and their buildings functioning."