The Expertise of Many, the Power of One
April 20th, 2020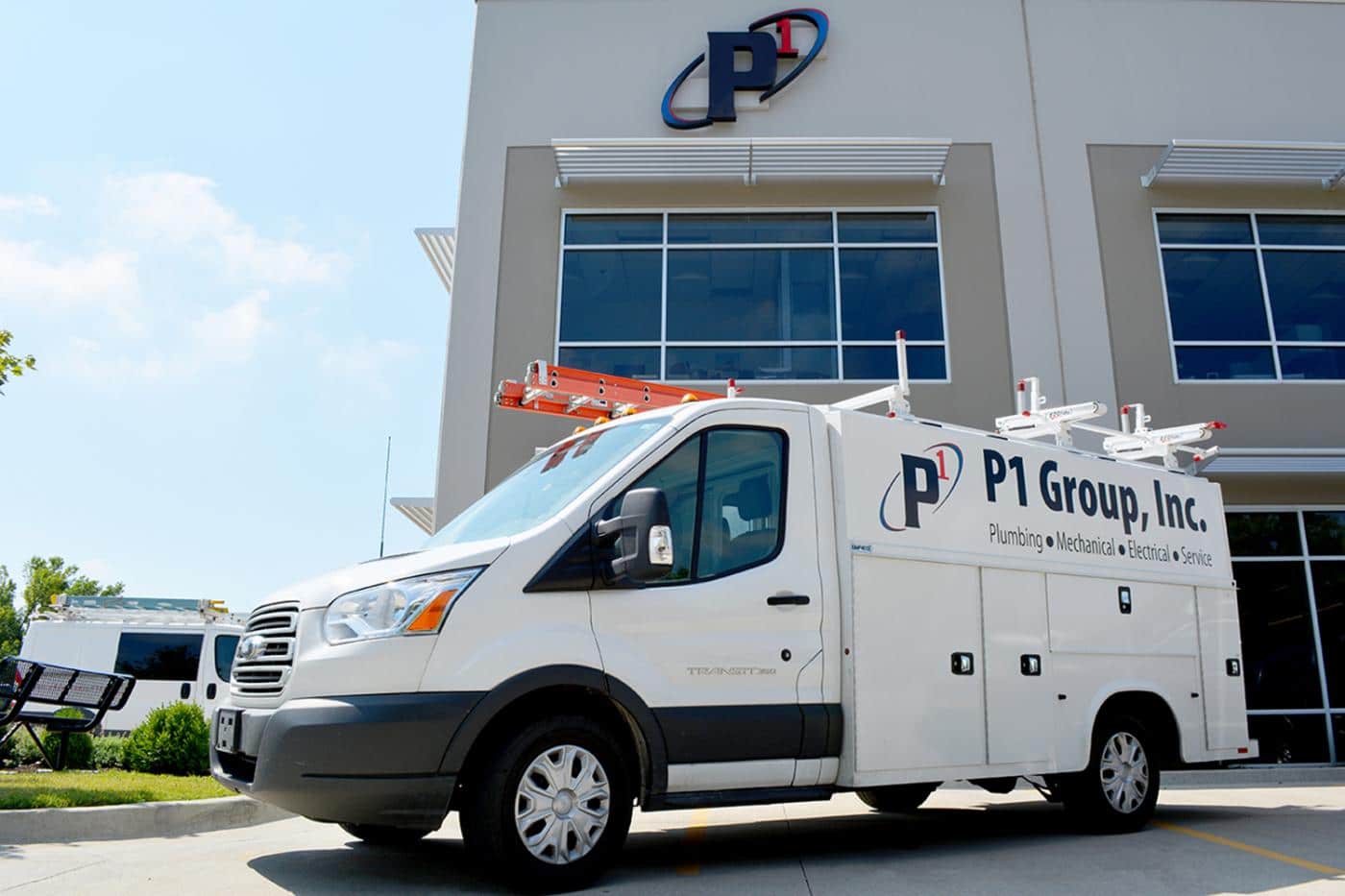 Over 101 years P1 Group has grown into a national, single-source construction and service provider 
Todd Mihalchik, a project manager and estimator for P1 Group, Inc., paused for a moment.
He had just been asked, "What sets P1 Group apart in the commercial contracting market?"
"Wow," he said. "There are so many things. We're honest. We believe in 100 percent accountability and zero excuses. We have a culture of safety first and quality always. We take good care of our people and good care of our customers" 
Mihalchik paused again.
"But I guess the best thing I can say is that even though we're a big company we still feel like a family." 
COMPANY BACKGROUND
Founded in 1919, P1 Group Inc. is a national construction and service provider with more than 1,300 employees. Headquartered in Lenexa, KS, the company has offices in Lawrence, Wichita, and Topeka, KS;  St. Joseph, MO; and Las Vegas, NV, and is licensed to work, and/or working in, more than 33 states.
P1 Group's capabilities include mechanical, electrical, plumbing, and millwright construction; service and facility maintenance (HVAC, refrigeration, plumbing, and electrical); and value-added services such as  virtual design and construction, fabrication, and facility management and operations.  The company serves multiple markets across the U.S., including healthcare, commercial, industrial, government, education, nuclear, themed entertainment, and mission critical.
P1 Group is the result of multiple companies coming together over the past 100 years. The varied expertise of those companies provides P1 Group with single-source capability and allows it to live up to the meaning of the "P1" name: "The Expertise of Many, the Power of  One."
P1 President Kollin Knox cited the 1997 merger of A.D. Jacobson Company and Huxtable and Associates as a key moment in the history of P1. Jacobson was a mechanical contracting firm, while Huxtable added their offerings in electrical, sheet metal, and a large service department. 
"Today we can provide both mechanical and electrical services for our customers and there aren't many contractors that have that capability," Knox said. "I think that's one of the huge differentiators for us: we truly are a single-source solution. There's not a lot that we're not capable of doing."
GUIDING PRINCIPLES
P1 Group prides itself on executing all of its services, from start to finish, with the highest level of professionalism and expertise. To achieve that, the company is guided by six business principles:
 A mission of service 
 A vision of excellence 
 Safety first, quality always  
 Professional and friendly dealing 
 Honest, fair and equitable business with customers, vendors, and subcontractors 
 "Secure from the ground up," which is a belief that the company's short-term successes are the pathway to its long-term prosperity.
Knox pointed out that at P1, these principles are not just words on a piece of paper. 
"We continually review those principles and stress their importance," he said. "We live them every day. There's nothing magical about them. The magic comes from our commitment to them."
Knox is particularly adamant about honesty, authenticity, and accountability. 
"That's just the way we operate," he said. "It's non-negotiable. If you're going to be a part of the P1 family, you know those are the expectations."
SKILLED LABOR SOLUTIONS
Like every other contracting company, P1 Group has to deal with the shortage of skilled labor in the HVAC industry. And finding good people can be especially difficult for a company that holds itself to such high standards.
"At the end of the day, as an industry, we're very concerned about where the next generation of skilled workers is coming from," Knox said.
To that end, P1 has recently begun supporting local junior colleges, vocational schools, and welding institutes in the Kansas City area. P1 also has started working with high school counselors to reach out to juniors and seniors in high school who may never have considered a future in HVAC.
Beyond skills, however, Knox noted P1 Group also wants individuals who fit the company's culture. That means the interview process for potential new hires is thorough, and may consist of up to five interviews with different groups of people within P1. 
Once people join the P1 team, the company is not shy about investing in them. P1 associates participate in ongoing training through the P1 Training Center, which was introduced in 2008. The Training Center includes complete mechanical and electrical systems, allowing trainees to work in actual operating conditions. 
The company also provides comprehensive safety training through participation in the Build Safe Partnership program, which demonstrates that it adheres to a strict set of OSHA guidelines. 
All of these steps contribute to the company's 92% annual retention rate. 
"We talk a lot about 'hired to retire'" here, Knox says. 
CREATING LASTING RELATIONSHIPS
In Lawrence, P1 Group's 220,000-square-foot facility accommodates five large pre-fabrication shops for pipe, plumbing, electrical, sheet metal, and millwright. Pipe Shop Production Manager Jeremy Price has been with P1 Group for 13 years, the last four of which have been spent overseeing the day-to-day operations in the pipe fabrication shop. 
Price praised P1 Group's quality standards, which include a stringent quality control program in his department. He explained that a quality control team oversees all aspects of fabrication on hundreds of jobs each year. The only assemblies that leave the shop are those that are true, plumb, and square, and that are signed off on by the quality control department
"We ensure that what we're sending out is going to be correct for each job, so the installation is seamless," he said. 
Price added his department—and the company overall—are always looking for new ways to do things,  and new products and services that provide the most economical cost to customers.
According to Knox, this openness to new ideas is all part of P1 Group's dedication to enriching its customers' experiences.  
"We strive to be more than just a contractor" he said. "Our goal is not only to provide solutions for our customers, but to create relationships that last through the life of the building and through generations of customers."
PROVIDING THE BEST EXPERIENCE
As an example of P1 Group's commitment to providing the best customer experience with the industry's latest products and services, Knox, Price, and Mihalchik all cited the company's use of Aquatherm pipe. The polypropylene piping system offers many advantages over steel in commercial heating and cooling systems—advantages many customers may not be aware of.
"Even though we have the best welders in the industry, we kept an open mind to Aquatherm," Knox said. 
P1 Group  first used Aquatherm pipe on a direct-buried system at Overland Park Regional Medical Center in Overland Park, KS, in 2010. 
"We saw how well Aquatherm worked in that first application and since then it is always an alternative that we offer to our customers," Knox said. "It offers labor savings, it is lighter and easier to work with than steel, and it lasts longer. It absolutely fits into our goal of enhancing our customers' experiences."
Mihalchik added that Aquatherm is a clean product that doesn't scale, corrode, or erode like carbon steel. 
"It keeps pumps running cleaner and more efficiently, and because it has a natural insulation value it doesn't require as much insulation as steel," he said. 
According to Price, P1 Group has made a significant investment in the heat fusion equipment that is used to join Aquatherm pipe and fittings, and the company can now offer its fabrication capabilities to various contractors in the area. The equipment purchased  by P1 Group includes three McElroy Spider™ 125 fusion machines, a McElroy Acrobat™ 160 fusion machine, a McElroy Acrobat™ 250 fusion machine, and a McElroy SmartFab™ table.
"[Aquatherm] is a product that's going to continue growing and we are pleased to be one of the leaders with it in our market," Price said. 
SOLUTIONS, SUPPORT, AND A SHOWCASE
P1 Group customer Berry Global is a leader in packaging and protection solutions, with manufacturing facilities worldwide. The company, which was established in 1967 and has grown to 23,000 employees in 290 locations, is justifiably proud of both its heritage and what it has become today.  
P1 Group has worked extensively at Berry Global's 1.6 million sq ft thermoforming and injection-molding campus in Lawrence, KS, for more than 30 years. Berry Global emphasizes continuous improvement and optimization of processes, and it holds its suppliers and service providers—including P1 Group—to high standards.
"P1 Group always makes the extra effort to make sure we get a quality product," said Jacob Francis, facility supervisor at Berry Global in Lawrence. 
As an example, Francis cited P1 Group's recommendation of Aquatherm pipe when the Lawrence plant needed to upgrade the chilled water piping for its injection molding process. The old steel piping was corroded and was fouling the system's water, causing loss of cycle time and loss of productivity. 
"Our P1 rep mentioned Aquatherm pipe as a solution, and we looked into it," Francis said.  
He noted that there was some hesitation because the facility had not had good success with other types of plastic pipe, such as PVC. However, P1 Group showed Berry how Aquatherm was different, and how it would provide the flows and pressures the systems required. An added benefit was that P1 Group would be able to install more than 3,000 ft of heat-fused Aquatherm pipe over one three-day weekend—a schedule that would have been impossible with steel pipe.  
"The support provided by P1 and Aquatherm was outstanding," Francis said. "They stayed on site for all three days and worked side by side to get the project done. 
"We've actually become the showcase for other facilities to come in and see Aquatherm pipe in action," he added. "And it all started because P1 Group was looking out for us."
To Mihalchik, the work at Berry Global is just one example of P1 Group's commitment to embrace the future and offer its customers the latest advances.
"We're one of the leaders with Aquatherm pipe because instead of being afraid of it we challenged ourselves to become educated about it," he said. "To be a leader you have to keep up with new technologies through education and training."
THE NEXT 100 YEARS 
As P1 looks back on more than 100 years in business, Knox said the company is looking ahead to ensure its success in the next 100. And he knows where to start.
"The biggest thing is just continuing to invest in our people," he said. "If you have happy associates  that get out of bed wanting to come to work every day, that equates to happy customers. We offer a rewarding, enjoyable workplace by creating a culture that people want to be a part of, and we invest in their education. I read a quote once that said, '95% of my assets drive out the gate every night. It's my job to bring them back.' And I think there's a lot of truth to that."
P1 Group's Mission Statement
Our goal is simple: to assure that our services, from inception to completion, are executed with the highest level of professionalism and expertise. The P1 Group service mission "The Expertise of Many, the Power of One" is expressly defined in our business principles: Commitment to Quality; A Vision of Excellence; Safety First…Quality Always; Professional and Friendly Dealing; Honest Business Only; Secure From the Ground Up; 100/0: Our associates learn to exemplify 100 percent accountability with zero excuses.
To watch a video of P1 Group and Aquatherm pipe in action at Berry Global, Inc. in Lawrence, KS,  follow this link: https://bit.ly/P1Berry