Vibration Isolation in Aquatherm Piping
201804A – AQTTB
Date Issued: 18 April 2018
The Aquatherm Technical Guide says, "Aquatherm polypropylene (PP-R, RP(RCT))1 can absorb small vibrations, so isolators are not required if the pipe has some limited mobility on either side of the pump or equipment to which it is connected."
The above statement only applies to small diameter pipe 4" (125 mm) and smaller. The length available for movement is based on the bending leg length needed to absorb the movement from a 100°F temperature differential in 100 ft. of pipe.
The following table indicates the bending leg lengths needed to provide the mobility for vibration isolation.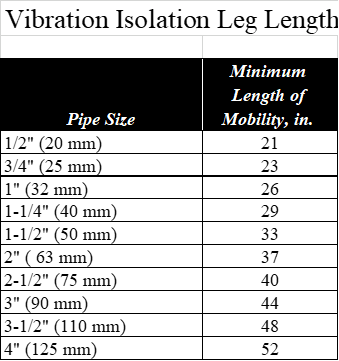 Piping should not be connected to the building structure within the above lengths from the pump, fan coil unit or other source of vibration unless an actual vibration isolation device is used. If there is not enough room to provide the vibration leg length, then a vibration isolator or absorber should be installed.
For piping 6" (160 mm) and larger piping vibration isolation couplings or flexible connectors should always be used. These vibration isolation couplings or flexible connectors will need to be purchased from a third party.
Revisions
25 Oct 2021 – Added RP(RCT)