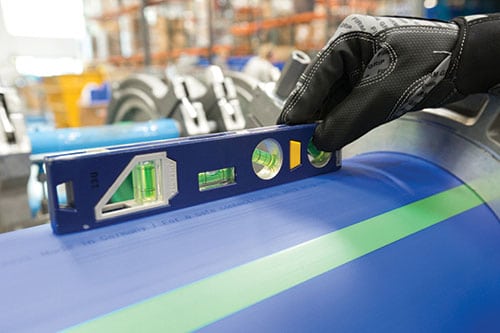 Quality Control Process
From raw PP-R granules to fully installed systems, we are obsessed with quality. This is great for our customers, because aquatherm makes pipes and fittings they can rely on every time.
We test every shipment of raw PP-R that we receive for chemical purity and consistency. From there, we mix the PP-R into our proprietary resin Fusiolen, testing it for heat stability, melt index, color, and homogeneity. Once the Fusiolen meets our exacting standards, it is used to produce our pipes and fittings at the aquatherm factory in Attendorn, Germany.
Our pipes and fittings are made using the latest extrusion and molding technology, and production data is collected at every step. Pipes and fittings are labeled with production numbers, so the data can be easily associated with the actual parts. Before shipping, parts are weighed and spot checked to ensure consistency in every piece.
And to prove how serious we are about quality control, we back our PP-R parts with an industry-leading 10-year warranty. Our warranty covers replacements parts, labor, incidental damage, personal injury and even financial loss in the event of failure due to manufacturer defect. But thanks to our obsession with quality, you'll never have to use it.