Aquatherm Scan-to-Fab Service Honored with Spaces4Learning Product Award
September 1st, 2020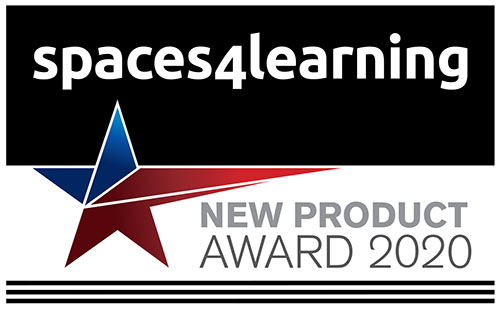 Lindon, UT — (September 1, 2020) — Aquatherm, the industry's leading polypropylene piping manufacturer, is pleased to announce that Aquatherm Scan-to-Fab service has been named a Platinum winner of a Spaces4Learning 2020 New Product Award.
Spaces4Learning is a leading publication for education institutions, the architectural community, service providers, and others interested in creating high-quality facilities. The New Product Award program honors the outstanding product development achievements of manufacturers and suppliers whose products or services are considered to be particularly noteworthy in their ability to enhance the learning environment.
Aquatherm's award came in the Higher Ed category, Mechanical, Electrical & Plumbing. It was based on a project completed at Old Dominion University in which the university's leaders and JRC Mechanical, Chesapeake, VA, used Aquatherm Scan-to-Fab when designing a new central utility plant.
https://aquatherm.com/case-studies/old-dominions-new-central-utility-plant-reigns-as-a-fast-track-masterpiece
The Aquatherm Scan-to-Fab service provides a skilled technician to perform an onsite job scan with a laser scanner. The resulting scans create a point cloud which is used to help create the fabrication model and the spool drawings for the project. Aquatherm Scan-to-Fab ensures accuracy of measurements, dramatically reduces preconstruction mobilization cost, facilitates quicker installation on complex projects, and provides as-built dimensions.
"This has been a difficult time for education institutions, but the manufacturers and suppliers that serve this sector have really stepped up with great solutions to help ease the burden for schools, colleges and universities facing the challenges of reopening or remaining open amid the COVID-19 pandemic," said David Nagel, editorial director of Spaces4Learning. "Spaces4Learning congratulates all of our winners on their important contributions."
"We are proud to receive this honor from Spaces4Learning," said Michael LeBlanc, Aquatherm's Vice President of Operations. "Educational institutions are an important market for us and are among the facilities that can benefit greatly from the advantages of Aquatherm pipe. Through our internal Culture of Excellence, Aquatherm strives to provide the best customer experience with our product offering of ½-inch through 24-inch pipe and fittings. In addition, we are the industry leader in training and, along with Scan-to-Fab, offer many other important services such as estimating, drafting, fabrication, and engineering support."
About Aquatherm
Aquatherm's low material, installation, and nonexistent maintenance costs, combined with sustainability and code approvals and listings, position it as the piping system of the present and the future. For more information, please visit aquatherm.com or call 801-805-6657. Aquatherm – We've got a pipe for that.