AQUATHERM BLUE PIPE — TOPS FOR HOPS
aquatherm blue delivered a more durable solution than plastic and a less expensive one than metal, along with a 10-year multimillion dollar warranty.
Click anywhere to dismiss
The Challenge
The owners sought a piping system to transfer a glycol/water mixture from the chiller to the fermenting tanks and the cold-water storage tanks. Typical options weren't durable enough for the circumstances.
The Solution
aquatherm blue delivered a more durable solution than plastic and a less expensive one than metal, along with a 10-year multimillion dollar warranty.
With its polypropylene-random (PP-R) pressure piping increasingly being used on a wide variety of applications, aquatherm is beginning to carve out a niche in process piping brewery applications. The new Aardwolf Brewery in Jacksonville, FL, selected aquatherm blue® as the primary piping component in its fermentation process.
The pipe is used to transfer a glycol/water mixture from the chiller to the fermenting tanks and the cold-water storage tanks. aquatherm blue was the only piping option that met the unique demands of this newly opened, up-and-coming brewery whose plans for expansion are already on the horizon.
First and foremost, Aardwolf owners, Preben Olsen and Michael Payne, wanted a product that could withstand the daily stresses of the low temperature glycol/water mixture for many years. These entrepreneurs were in it for the long haul, with plenty of space for growing their operation, so product reliability and longevity were a major concern. A process failure could damage not only a lot of product, but also the growing reputation of this already popular neighborhood brewery and taproom.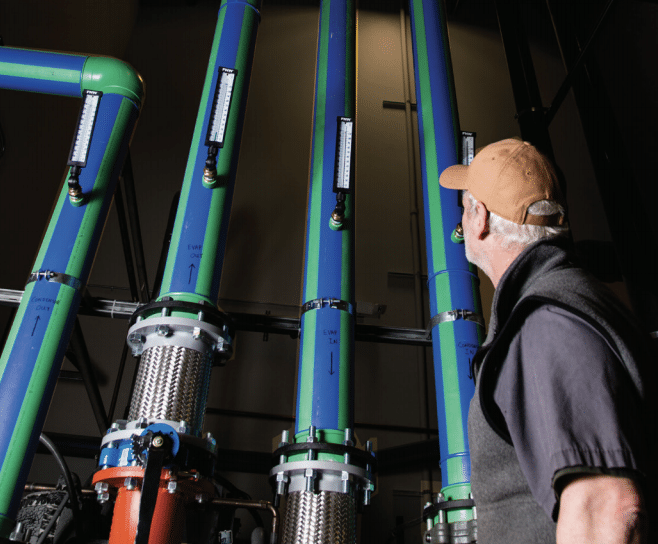 "The glycol system is critical to the brewing process because excessive temperatures during fermentation can be very detrimental to the flavor quality of the beer. This means the glycol system must be as reliable as possible, with minimal downtime," explained Payne, co-owner and brewer for Aardwolf.
Olsen, Payne, and their contractor initially considered copper, PVC, and CPVC piping for the fermentation and cold storage processes. Ultimately they eliminated these options for various reasons.
Copper piping was too expensive, in terms of both materials and installation labor. It was nearly twice as expensive as the aquatherm piping and would require double the labor to install. PVC and CPVC pipes, though far less expensive compared to copper, might not be able to endure the low process temperatures (+/- 24°F) over extended periods of time. These temperatures would have made the pipes fragile. The owners also had concerns that the pipes would crack or split if any shock or excess vibration were applied to them. Such an incident would result in glycol spills, spoiled product, and expensive and unscheduled repairs.
"Many breweries use PVC for their glycol system headers, but those systems have been known to fail catastrophically," said Payne.
Brewing for Long-term Success
Fortunately, Olsen and Payne found a more reliable solution in aquatherm, which was recommended to them by their mechanical engineer, Allan Grinnan, Jr. of Sunbelt Engineering, and their mechanical contractor, Bernhard D. Echt, owner of Bernie's Boiler & Cleaners Equipment Service, Inc.
"When it came down to making a decision on the material for our glycol plumbing, it really didn't make sense after all we had put into the business, to go with an inferior product just to save a few dollars. Investing in quality equipment that I know I can rely on and expand on easily was the only logical thing to do," explained Payne.
While the investment in aquatherm piping might have been greater than PVC or CPVC, it likely saved Aardwolf installation cost.
"I believe I was able to save the consumer around 50% in material and labor compared to a copper or black iron pipe installation. Also, I believe the main savings will be long-term in the durability, corrosion resistance and maintenance," said Echt.
Not only did Olsen and Payne make a prudent choice in terms of investment, they picked a product that was ideal for their intentions. aquatherm's blue has increased flow rates and is made of light, impact-resistant PP-R material that is resistant to most chemicals. Most importantly, it has the physical properties to withstand low temperatures over extended periods of time.
Also, since aquatherm offers over 400 fittings and valves that don't require flux, solder, or glue to fasten the pipes together, they are extremely easy to install and adapt easily for future expansions. aquatherm's fusion outlets, which are heat-fused saddle type fittings, save large amounts of labor time since they allow installers to simply drill into the supply pipe, and then install the fusion outlet fitting into place wherever needed.
"If additional fermenters need to be connected to the same pipe, I can simply drill the pipe and set more branch adapters for those connections without having to either cut the pipe or disassemble the pipe," explained Echt.
When installed by a factory-certified installer, aquatherm pipe systems also carry a hefty 10-year warranty that covers tens of millions of dollars in damage to pipes, fittings, and any incidental damage caused by material failure from manufacturer defect. The policy even provides coverage for personal injury and for financial loss. That's a lot of peace of mind for Olsen and Payne, who have invested so much in a longtime dream of owning a thriving, highly regarded brewery.
A Job Worth Toasting
Prior to the installations at Aardwolf, Echt and his men participated in a four-hour training session held by aquatherm's local rep and distributor. The training session is essential to successful aquatherm installations.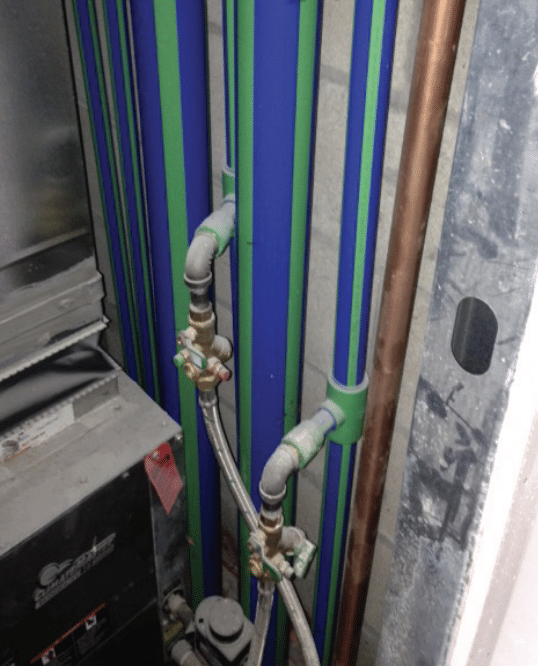 The session provided insight into the unique properties of aquatherm piping, including those that enhance its fusion quality. All aquatherm pipes and fittings are made with Fusiolen® PP-R, a material that is engineered to have an ideal melt index for socket fusion and butt welding, resulting in connections that are strong and homogeneous. The installers were trained in the proper procedures and techniques for fusing the pipes and fittings.
It was time well spent. Echt and his installers were able to complete the entire Aardwolf installation of aquatherm pipe, which began May 29, 2013, in only three days. Meanwhile, Aardwolf patrons were still able to enjoy signature Aardwolf flavors brewed on a pilot system put into place before the primary brewing system commenced operation.
The 9,000-sq-ft Aardwolf Brewery is contained within the exposed brick walls of an old icehouse. It includes a cellar and a taproom where customers can see into the brewery space where Olsen and Payne will produce a variety of beers, including highly hopped beers, barrel-aged strong ales, and sour ales. Their beers will be sold in their taproom as well as in local restaurants and bars through their distributor. Within the next couple of years, the owners expect to add several more fermentation tanks – a process that will be made simpler thanks to their selection of aquatherm pipe.
aquatherm is quickly becoming the brewmaster's choice for fermentation processes, having been chosen by several breweries throughout the U.S. These include EPIC Brewing Company (one of the fastest growing breweries in the country) with breweries in Salt Lake City and Denver, Big Sky Brewing in Missoula, MT, and Two Brothers Brewing in Warrenville, IL.