Free Steel Tariff Guide
The price of steel changes daily. That's because it's impacted by many factors, including tariffs. So, when steel pipe is used in mechanical HVAC and plumbing systems, it causes pricing uncertainty for you and your customers. Download this free guide to learn more about factors that affect steel prices, tariffs on imported steel and reliable piping alternatives.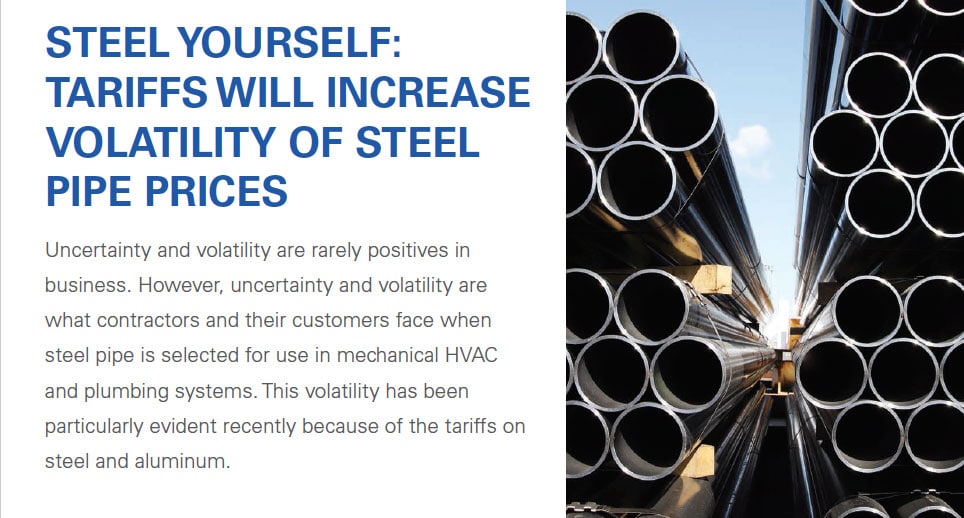 DOWNLOAD YOUR FREE STEEL TARIFF GUIDE
PP-R Cost Saving benefits
Stable Prices
Predictable total installed cost and prices that don't fluctuate based on tariffs or upheavals in the comodities markets
Labor Savings
Faster, easier installation thanks to heat-fused connections and piping weights up to 75% lighter than carbon steel
Lasting Performance
Never rusts, scales or corrodes, and has a projected life span of 50 years
Installer safety
Heat-fused connections without flame or welding and lightweight piping materials reduce risk of eye and back injuries
Chemical Purity
Chemically inert Aquatherm piping won't leach any trace chemicals into water
DOWNLOAD YOUR FREE STEEL TARIFF GUIDE
featured Aquatherm solutions

Aquatherm Blue Pipe
Applications
Chilled Water
Compressed Air
Cooling Tower
Geothermal
Industrial

Approvals
NSF 14
ICC
ASTM F2389
IAPMO
UMC
IMC
CSA B137.11

Sizes
SDR 7.4: 1/2" - 3/4"
SDR9: 1" - 14"
SDR 11: 1/2" - 18"
SDR 17.6: 4" - 24"


Aquatherm Green Pipe
Applications
Compressed Air
Fire Protection
Food Grade
Potable Water
Sprinkler
Swimming Pool

Approvals
NSF 14, 51, 61
ICC, UPC
NFPA & FM
IAPMO
ICC
CSA B137.11
ASTM F2389

Sizes
SDR 7.4: 1/2" - 14"
SDR 11: 1/2" - 18"

Fabrication
Time is money. Nowhere is that more evident than in today's construction industry. That's why Aquatherm uses our expertise and world-class fusion welding equipment to deliver custom fabrication services. Best of all, every piece made by Aquatherm is a catalog part item.
Case Studies on How PP-R Saves Cost
LABOR SAVINGS
"I think any time you're in a process where you would typically turn to welding piping, you should look at the time savings and durability of Aquatherm pipe."
- Jeff Friedon, President @ Warner Mechanical LLC
STABLE PRICING
"The cost of using steel is not just the installation. It's the hidden costs that have to be recognized by the facility manager and the owner about the cost of a carbon steel or cast-iron system."
- Lou Garavito @ Wallace Eannace Associates Inc
FASTER INSTALLATION
"Aquatherm allowed us to hang long runs of it overhead and get more pipe in the air quickly"
- Troy Norris, Senior Vice President @ Kirlin